An Unlikely Journey to Paris, TX

Hamish and Courtney Harley are carrying on their family's legacy 
Paris, Texas
The family's unlikely journey to Paris all started with a ski trip.
"My parents were on a skiing holiday in Colorado and landed in Dallas. They liked the area," Hamish says.
"When they later returned to England, they saw an ad for inexpensive land in Oklahoma. They stopped in Paris on the way there. Their hotel was next to a Century 21 office. It just so happened they found the perfect land in Paris, Texas and their realtor steered them to Lone Star." That began the long-lasting relationship with Lone Star Ag Credit he says.
The rest, as they say, is history.
Fast-forward nearly 25 years and Hamish is making his mark at Harley Ranching — with the support of Lone Star Ag Credit.
In 2016, Hamish and his brother, and later his wife, Courtney, became Lone Star customers when they secured a land loan.
"Being with Lone Star gives us the financial freedom to execute our vision. They understand the ag community better than a commercial bank," Hamish says.
Apart from their land loan, Hamish and Courtney are in the process of acquiring additional land with a home on the property they'll share with their young daughter, Heidi.
Lone Star Ag Credit's commitment to Hamish and Courtney goes beyond financing.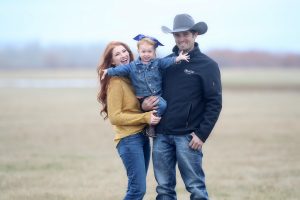 In July 2019, Lone Star Ag Credit selected the Harleys for the annual Farm Credit Young Leaders Program in New York City and Washington, D.C. The four-day trip teaches young farmers and ranchers about the Farm Credit System, the legislative process and the nation's financial markets.
"During our visit to D.C., we were able to see the impact of Farm Credit on farming and everything else they do. Even being a customer for three years, there was still much more to learn [about Farm Credit]," Courtney says.
Barbara Golden, Credit Office President for Lone Star's Paris office and the Harley's lender, reflects on her relationship with the Harleys. "The Harley family is an example of how we at Lone Star build relationships and work together for decades. We love being able to help our customers fulfill their dreams of land ownership and all the possibilities that come with it."
Apply Today
Begin your loan application process
with a few simple steps.
Start Now
Find An Expert
It's the people that make Lone Star special. Let our experts guide you in your journey
View Locations