Trey Denny Named Finalist in National FFA Beef Production Entrepreneurship Proficiency Award Area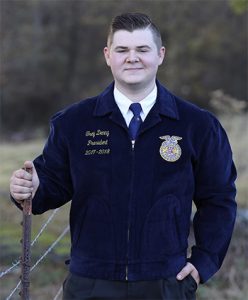 Trey Denny has been selected as a National FFA Proficiency Award Finalist in Beef Production Entrepreneurship. As the 2019 Texas FFA State Beef Production Winner, Denny was selected from all state winners and is now one of only four chosen to compete for this award at the national finals to be held at the 92nd National FFA Convention & Expo in Indianapolis.
The proficiency awards recognize outstanding student achievement in agribusiness gained through establishment of a new business, working for an existing company or otherwise, gaining hands-on career experience. Trey won the Texas FFA State Beef Production Entrepreneurship Proficiency Award in early June. In July, his record books were sent as a state winner to National FFA for new scoring and judging with all state winners from across the United States. He was selected in August as one of only four National FFA Proficiency Award Finalists. With this selection, he will interview in person on October 31 in Indianapolis at the National FFA Convention.
Trey's record books contain 155 pages of FFA and Ag Class records which include financial records, FFA activities, and community service activities from 2014-2018. They contain records for his commercial and registered cattle herds that are owned by him. His grandfather gave him his first 3 red cows that started his herd at age two. His record books consist of his herd of commercial and Red Angus cattle, 16 head of steers that were shown during high school, one home-raised steer, one county commercial heifer, and one ORB Charolais Percentage Female.
Trey recently completed National FFA Interview training with Texas FFA. The interview host selected Trey's Lone Star Ag Credit Experience essay about finance as the interview subject. He was asked specific questions about his loans, interest rate, and experience during the loan term and repayment. He shared how Barbara Golden, Lone Star Credit Office President in Paris, assisted him through the entire process from the loan application and repayment plan to visiting Trey and his animals on their farm over the years. Barbara remarked, "Trey is a very polite, hard-working young man. I know he will be very successful in life. I'm so proud Lone Star Ag Credit was able to contribute in a small way to his past, as well as his future success."
Trey attributes his financial success to family, sound guidance he has received, and to the loans that Lone Star Ag Credit gave him for his project and show animals. The loans provided added income for his cattle herds. Not only did the loans allow him to keep growing his herds, but they gave him business experience and credit history with a lending association. In 2018, a Lone Star Ag Credit FFA Loan financed a Limousin steer that won Grand Champion at the San Antonio Livestock Show and Rodeo and a $10,000 scholarship.
Lone Star is proud to have Trey as a customer. He is also a 2018 recipient of a Lone Star Ag Credit scholarship. He is a sophomore at Paris Jr. College, majoring in Animal Science with a minor in Ag Economics. He will transfer to Texas A&M University in the fall of 2020.
Trey will interview in Indianapolis, Indiana on October 31st for the National title. In recognition of being a national finalist, Trey Denny will receive a national finalist medallion and $500 during the special ceremony at the National FFA Convention & Expo.
If selected, he will receive a $5,000 scholarship and will be on stage at the National Convention on November 1st for the National winner announcement with the other 3 finalists.
Apply Today
Begin your loan application process
with a few simple steps.
Start Now
Find An Expert
It's the people that make Lone Star special. Let our experts guide you in your journey
View Locations